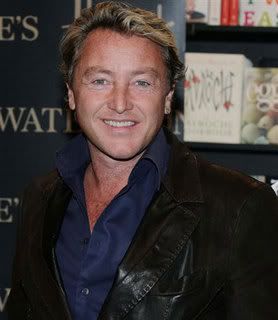 At 48, today he lives quite a reclusive life in the magnificent Castlehyde mansion, beside the brimming Blackwater, where he and his wife Niamh are expecting their first child in a month's time.
He is surrounded by opulence, the great house is beautifully restored, servants move around with a sort of informal piety, expensive paintings are everywhere, and he has a wonderful collection of rare books including an early edition of Ulysses interleaved with original drawings by Henri Matisse and signed by Joyce and Matisse.
And so, Michael Flatley, the ambitious and talented Irish-American from Chicago, has made it, and he has Castlehyde to prove it. It is like a scene from a John Ford movie set. Michael Flatley is living the Irish-American dream. But what does he do next?
The mysterious illness that ended his last world tour in June, 2006, has not yet been been diagnosed. He has been tested for every known virus, every known illness, but the doctors can't give him a definite answer yet.
"Maybe it's God's way of telling me to slow down and stop thinking I'm superman," says Flatley, looking wistfully out over the mist-shrouded Blackwater valley, like a Chicago Hamlet.
The deepest fear, one senses, in the Michael Flatley psyche is the thought that he might never be able to dance on the stages of the world again. It is clear that he is looking for different values to sustain in the years ahead, and he is blessed to have the loving support of his Meath-born wife Niamh and the delightful prospect of their first child due around April 25.
"Getting married and having a child on the way tends to make a person sit down and really take a look at their lives and at where it's going. There's no question that my focus is changing, that I'm growing and I'm learning every day and I want to continue to grow and learn - and if that means leaving behind my dancing and moving into something else, I'm happy to do that.
"If, on the other hand, my body can come back and we've been offered a nice world tour, then I'll take a look at that too but I won't do it unless I feel I can perform to the level that I've performed at in the past. That's very important to me. It's not good enough to [just] go out on the road and pick up a few more bucks. That's not what this is about, it's gone way past that now," explains Flatley.
The dancer last performed in public in June of last year when he toured Hong Kong and Taiwan.
"That nearly killed us. It was a difficult tour, we did a bunch of football stadiums and we were really proud to think that an Irish dance show could sell out football stadiums. It was a big thing for us and it does spread Irish culture and that's a good thing too, but it was hard. We never slept, we never ate the food over there and I was never so happy in my life to see home as after that trip."
Flatley was forced to cancel his Celtic Tiger European tour when he fell ill at the start of November last year with a mystery virus. He was in hospital for several weeks.
"I had tests from probably 20 or 30 different doctors for different things. They tested for every known virus, every known illness that they could find and there is nothing that they could pinpoint thus far and so they can't give me a definitive answer," he explains.
The good news for the dancer, however, is that he is now on the road to recovery.
"They can tell me that it is slowly getting better and healing itself. When your body is run down to the extent that mine was towards the end of that tour, I think you're vulnerable at that point, but I'm also a firm believer that the body can heal itself to a great extent. If you believe in it and if you focus on healing yourself, then that can happen," the dancer adds.
Flatley's illness came at the end of a decade of the most incredible success, and incredible hard work.
"We've been 10 years on the road, dancing and living it up and late nights, travelling and suitcases and flying, nobody could keep up with that.
"At the same time, I'm running the business and producing the shows and there's a time when you have to say, 'OK, take a good look at where we are now, what is the best way forward, why are we here, why are we doing this?'
"If it's all about money, you have to get out of it. If it's hurting your health, you have to get out of it."
Dancing is what Michael Flatley was born to do.
"When I'm on the front of the stage and I've got 50 of the greatest dancers in the world behind me, mostly Irish, and the audiences are standing up and it sounds like the Concorde is taking off with the noise of the taps, it's one of the greatest feelings in the world, and so that's not easy to let go of either," the dancer says.
"Whether I perform again or not, I will definitely try and get back to 100 per cent fitness. I miss that, my body misses that. I'm happy when I'm training. We walk a lot here and that keeps me relatively fit but to me it's about challenging yourself and your body. That's an important part of who I've been for a long time, and I think that would be hard to let go of as well."
Over the years, Michael Flatley has learned a lot about himself and about his art.
"A lot of the things I started out with are still true today. The harder I work, the luckier I get. Any business deal that I do, I'll always look at it in terms of a win-win. It should never be a 'How much I can get?', you've always got to leave something on the table, that's hugely important in life...
...When I created Lord of the Dance, I set it up myself and did all the business end of it myself and that way I was sure of the destiny of the show. It's still going today, we've got three shows on the road and that's important.
I could be a much greater artist and I could be a much better businessman but I do what I can on both sides and I work like hell and that's why I'm still here today."
Flatley can trade punches with the best of them but there are some blows in life that can be hard to take...
...Don't look back, look forward. There's enough time for admiring yourself later on in life. I think you need to do what you can while you're still out there," he says.
Where to now is the big question for Michael Flatley.
"It's important in life to move on and to challenge yourself to doing new things. I think that is hugely important though what that direction is [for me], I'm not sure. I've had two chances now to do films and there are some wonderful people in that business but a lot of them that I've met wouldn't necessarily be my drinking buddies and I'm not sure that's the direction I would want to go in either...
...There's a number of business opportunities that I'm looking at right now. We do a lot of real estate things and that's probably good but I will need to challenge myself creatively at some point, whichever direction that takes.
"The only thing I am sure of is that it will probably be something Irish because that's who I am and that's who my parents raised me to be...
...I don't think people really understand who I am. Most people who write things about me, particularly the sharp comments that are made about me, most of them have never met me, let alone have had a pint with me. I know their job is to sell newspapers and their job is to find a target and a lot of people get it, I'm not the only one. I've read snide comments about a lot bigger stars than me and I feel for them because I know how that feels...
...What I do is such a tiny little piece of the overall movement that is the new Ireland now. It upsets me when people portray me as thinking that it's more, when nothing in my mind could be further from the truth.
The way that I see it, I'm thrilled to be part of what I consider a new young and exciting, vibrant, aggressive Ireland. It's exciting to be alive at this point in time. I probably have these numbers wrong, but there are about 200 billion stars in our galaxy and we're one of 150 billion galaxies. I'm just one flute player and dancer who lives on this one island."